DJ Evelin Scavo Live at B On Top Lounge, Byblos
September 06, 2013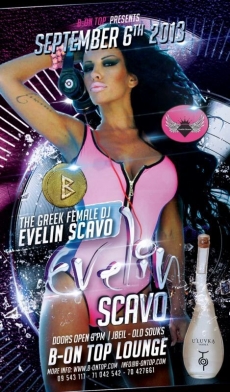 Doors open at 9 PM!
For more info: www.b-ontop.com - info@b-ontop.com
09/543117 - 71/042542 - 70/427661

Evelin Scavo is an international DJ, producer, remixer, singer, song writer (Official DJ of Playboy magazine). She has DJing at biggest super clubs, venues, DJ festivals all over the world. She also played at huge festivals like Ocean Spirit, Red Bull Festival, Summer Jam, Heineken Festival, Candee Beach Music Festival, Global Festival with thousands people. She was a special guest in many important events organized by the famous : MTV, Fahion TV, Grey Goose, GQ Magazine, Carlsburg, Philip Morris, Ferrari, VIP Casino. She also worked regularly as a model for FHM, Maxim, Playboy magazine.
In 2011 she was voted most sexy DJ in FHM magazine in Asia and in the same year she was voted winner of pioneer female DJ competition in the Middle East.
In 2013, she became the official DJ of Playboy Magazine Greece and got her own weekly Radio show in Greece.
Official Website: http://www.evelinscavo.com/