MIX FM Presents: Sasha, Offshore At Byblos
August 09, 2013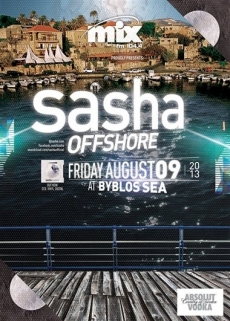 Introducing a clubbing sensation like NOTHING you've ever experienced before.
A fresh new level of excitement.
A night so daring.
A one of a kind clubbing adventure.
One of Lebanon's favorite DJ is back to Lebanese soil… Or Water ?!
Prepare yourself for the ULTIMATE experience:
SASHA: OFFSHORE
In The Middle of the Byblos sea!!!!!
In the year where Sasha released Involver 3 – one of the most talked about electronic highlights of 2013, catch the legend himself in an event so out there, it'll blow your mind.
Picture yourself on a clubbing island in the middle of the Mediterranean, with the horizon on one side and the historic city and the ruins of Byblos on the other…
And the incredible Sasha putting his stamp on the tracks you love the best.
The momentous night at Mar Mikhael train station set the bar high.
Get ready for the next Mix FM extravaganza for Summer 2013.
A wildly creative night.
Innovative, fresh and completely different… Talk about breath-taking!
Sasha: Offshore with Mix FM.
Friday August 9th.
The kind of night you'll look out to sea and wish you were a part of !!
Tickets on sale at My Mix ABC from August 1st.
35$ for standing and 75$ for VIP tables, with limited premium tables for 110$.
Reserve on 70-999-104. Bars handled by B018 Management
Opening set: Ronin & Nesta.
Warm up set: MaDJam.