The Rockefeller Foundation names Byblos as an Inaugural City of the 100 Resilient Cities Network
December 04, 2013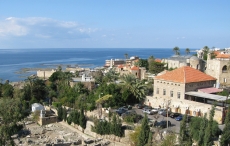 Byblos to be among the first group of cities to benefit from innovative resilience planning tools and resources .
The Rockefeller Foundation today announced that the City of Byblos has been selected to join the 100 Resilient Cities Network.
Byblos was one of nearly 400 cities across six continents to apply for the 100 Resilient Cities Challenge, which was announced in May 2013. The announcement came at the Foundation's third annual Innovation Forum titled, "Building Resilient Cities," which was held in partnership with the Financial Times in New York City.
Along with 32 other cities across six continents, Byblos will be able to better prepare for, withstand, and bounce back more effectively in the face of shocks, stresses and other vulnerabilities. Byblos is now part of a global network of urban areas focused on building resilience, to share
best practices and lead by example for cities throughout the world.
Out of 1,000 registrants and 400 applicants, Byblos is one of 100 cities chosen and among the first 33 inaugural cities to be named. Each city will be given funding to hire a Chief Resiliency Officer and develop a resiliency plan.
Shocks and stresses are growing in frequency, impact and scale, with the ability to ripple across systems and geographies. But cities are largely unprepared to respond, withstand, and rebound when disaster strikes. The greatest burden of these increasing shocks, such as the impacts of climate change or public health threats, often falls on poor and vulnerable people who have limited resources to cope with disaster and who take longer to recover from it, disrupting livelihoods and increasing inequality.
To help cities better prepare for and respond to these 21st century challenges, The Rockefeller Foundation has made a $100 million commitment to building urban resilience in cities around the world.
Through the 100 Resilient Cities Centennial Challenge, in the coming years 100 cities will be selected across the globe to receive technical support and resources for
The cities named so far include:
AFRICA
- Dakar (Senegal)
- Durban (South Africa)
CENTRAL AND SOUTH AMERICA
- Medellín (Colombia)
- Mexico City (Mexico)
- Porto-Alegre (Brazil)
- Quito (Ecuador)
- Rio de Janeiro (Brazil)
EUROPE
- Bristol (UK)
- Glasgow (UK)
- Rome (Italy)
- Rotterdam (Netherlands)
- Vejle (DK)
MIDDLE EAST
- Ashkelon (Israel)
- Byblos (Lebanon)
- Ramallah (Palestine)
NORTH AMERICA
- Alameda (CA)
- Berkeley (CA)
- Boulder (CO)
- El Paso (TX)
- Jacksonville (FL)
- Los Angeles (CA)
- New Orleans (LA)
- New York City (NY)
- Norfolk (VA)
- Oakland (CA)
- San Francisco (CA)
OCEANIA
- Christchurch (New Zealand)
- Melbourne (Australia)
SOUTH ASIA
- Surat (India)
SOUTHEAST ASIA
- Bangkok (Thailand)
- Da Nang (Vietnam)
- Mandalay (Myanmar)
- Semarang (Indonesia)
Additional cities will be named to join the 100 Resilient Cities Network in subsequent years.
About The Rockefeller Foundation http://100resilientcities.rockefellerfoundation.org/