100% Pub 1st Anniversary Boat Party
August 11, 2013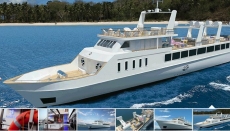 On 11 August 2013, DANCE DRINK SING and SAIL from Marina Dbayeh to Jbeil-Byblos for a swimming pit stop and then sail back to Zaitunay Bay, Rawcheh and Marina Dbayeh (from 11:00 am to 6:00 pm).
DJs, Dancers and Live Band will entertain you all day long!
75$ Open Regular Bar
90$ Open Premium Bar
125$ Open Premium Bar and Sushi
This event is organized by:
G.C.M Entertainment
GFC Media
100% Pub on Yacht 42 - www.yacht42.com
Gera Premium Vodka
Don't forget to bring you swimsuits as its gonna get HOT!
For reservation:
765 100 11
BBPIN: 226A913E