Seven Kings - The Family of The Gipsy Kings
September 10, 2014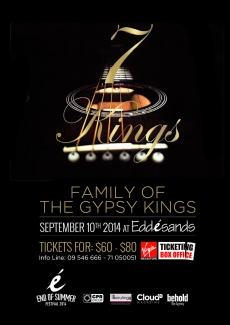 Edde Sands "Summer Festival 2014" presents the Seven Kings… The Family of the Gipsy Kings.
The Seven Kings are the new generation of the original Gipsy Kings. They make you travel to the gipsy world of yesterday; they follow the path of the great line of Reyes and present their original songs with a modern twist.
Date: September 10th, 2014
Doors Open at 8:30pm.
Tickets:
80$ at the VIP Zone including 2 drinks - Reserve your tables by calling Edde Sands Hotel and Wellness Resort at 70050051
60$ Regular including 1 drink.